Minacriss Free MinaUSB 3.2 Without Token Hidden Features
This is now, I can jailbreak the Passcode 6 S / 6 SP / 7/7 P iOS 14. x easier, not need to worry about losing jailbreak when withdrawing through Windows and not worry about changing tokens anymore.
Since all have to pass server Mina, maybe a little bit longer, after oder waiting for about 10-15 minutes is OK.
If there is an account from Reseller websites, it will enter the server faster, only about 3-5 minutes.
Wish you. I succeeded.
iCloud Bypass iPhone & iPad Unlock Tools
(Support iOS 14.6 - 14.7)
The iCloud Activation Lock screen is one of the most common issues iPhone and iPad users may experience. If you have an iCloud-locked device, you must have Apple ID and Password to unlock it. Our dev team has developed professional tools to solve these issues. With these tools, users can unlock their device, bypass iCloud Locked iPhone and iPad, and remove Apple ID account from Apple device, just in one click!
The Mina Software is ready to bypass the Activation Lock screen and activate GSM modules on MEID and GSM versions of the following iPhone models: 5S, 6, 6 Plus, 6S, 6S Plus, 7, 7 Plus, 8, 8 Plus and iPhone X. After the bypass, the feature of making and receiving calls will be available to you. SIM lock (carrier lock) will be unlocked after the bypassing process is done!
Model Supported (Mina USB 3.2 free worldwide):
| | | |
| --- | --- | --- |
| Models List | A-Models | Price |
| iPhone X | A1907, A1902, A1865, A1901 | $FREE |
| iPhone 8 Plus | A1864, A1898, A1899, A1897 | $FREE |
| iPhone 8 | A1905, A1863, A1906, A1907 | $FREE |
| iPhone 7 Plus | A1784, A1661, A1785, A1786 | $FREE |
| iPhone 7 | A1778, A1660, A1779, A1780 | $FREE |
| iPhone 6S Plus | A1699, A1690, A1687, A1634 | $FREE |
| iPhone 6S | A1633, A1688, A1691, A1700 | $FREE |
| iPhone SE | A1724, A1723, A1662 | $FREE |
| iPhone 6 Plus | A1522, A1524, A1593 | $FREE |
| iPhone 6 | A1589, A1586, A1549 | $FREE |
| iPhone 5S | A1457, A1518, A1528, A1530, A1453, A1533, A1428 | $FREE |


How To Use?
Steps to Jailbreak ios 14 passcode and Disable iPhones :
Download all required tools from above.

Open Mac OS Terminal and Enter this command to fix Mina USB crach problem:

udo codesign –force – deep –sign – /Applications/minaUSB.app)

Open checkra1n patch 0.11 in CLI-Mode (Download from Above links)

chmod +x checkra1n

/checkra1n -c

Put Your Disable / Passcode Device on Recovery and Click Jailbreak. When checkrain tool says Right before trigger (this is the real bug setup) Immediately Press :

For iPhone 6s, 6s Plus, SE 1, Ipad Air 2: Press and hold Home + Volume Down

For iPhone 7, 7 plus to X: Press and hold: Volume Up + Volume Down

After this, your iPhone device will turn on into diagnostic mode. check the sample image below :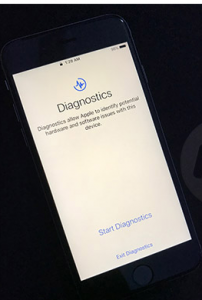 Open Mina USB Tool (Download from below)

Click to Patched USB Restrict on Mina USB Tool

Now Open Official Checkra1n version 12. (Download from above)

Re-Jailbreak your iPhone in Diagnostic mode.

You Have successfully Jailbroken your Device.
File Information:
README:
Compatibility: The tool runs perfectly on Windows XP, Windows Vista, Windows 7, Windows 8, Windows 8.1, and Windows 10 (32 bit and 64 bit).
Take a Backup:
If you are willing to try the above tool, then please take a backup of your personal data from your Android Smartphone or Tablet. As flashing any Firmware or recovery may brick the device.
Credits:
MinaUSB 3.2
is created and distributed by the developer. So, full credits go to the developer for sharing the tool for free.